English Cocker Spaniels and Field Spaniels ONLY
Description
A progressive weakness due to a neuropathy has been recognized as an autosomal recessive, hereditary disorder in English Cocker Spaniels by the research team at the University of Missouri Animal Molecular Genetic Lab.
Clinical signs typically begin between 7.5 and 9 years of age and consist first of an uncoordinated gait or wobbling in the hind limbs. The stance in the hind limbs is wide-base and the hocks will drop lower to the ground. The weakness eventually progresses to also involve the front limbs. When dogs become non-ambulatory in all limbs, difficulty in swallowing also becomes apparent.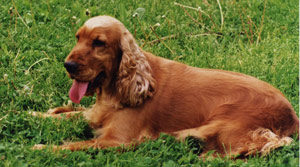 The neurologic signs seem to progress gradually over 3 to 4 years and more slowly than those of degenerative myelopathy.
All English Cocker Spaniels clinically affected with this form of neuropathy have tested clear for the mutation that underlies DM. So far the disease has only been clinically diagnosed in English Cocker Spaniels. However, the mutation has been detected in Field Spaniels, although it is very rare.
Research Available:
Explanation of DNA Test Results
Normal This dog has tested normal (or clear) for the mutation known to cause Adult Onset Neuropathy (AN) in English Cocker Spaniels and Field Spaniels. It is not at risk for developing this form of the disease. It can only transmit a normal gene to offspring, and current information indicates that dogs with this result can be bred to a dog with any DNA test result without risk of producing affected offspring.
Carrier This dog has tested as a carrier for the mutation known to cause Adult Onset Neuropathy (AN) in English Cocker Spaniels and Field Spaniels. There is no evidence at present that these dogs will develop clinical symptoms of Adult Onset Neuropathy (AN). It may transmit either a normal gene or a mutated/affected gene to potential offspring. To avoid risk of producing an affected puppy, these dogs should only be bred to mates which have been DNA-tested normal.
Affected/At-Risk This dog has 2 mutated copies of the gene known to cause Adult Onset Neuropathy (AN) in English Cocker Spaniels and Field Spaniels and is at risk for developing clinical symptoms of AN at some point in its lifetime, usually after 7 years of age. The clinical signs will progress slowly over 2-4 years, similar to degenerative myelopathy (DM), but the disease course is more gradual and of longer duration.
*Note – although clinical signs are similar to DM, all affected dogs studied to date have tested clear for the mutation that causes DM.
Order DNA Test
Tests are ordered online through the secure area of the OFA website. Payment is accepted by credit card (MasterCard and VISA). The OFA administers all order handling. Upon receipt of an order, the OFA will send out the test kit which will include a Foam-Tipped Applicator card for DNA sample collection, along with sample collection instructions. Using the FTA card technology, owners can safely collect DNA samples at home. The collection process is non-invasive, and no veterinary appointment is necessary.
Samples are then sent to the University of Missouri College of Veterinary Medicine where the samples will be processed by the Small Animal Molecular Genetics Lab. Results will be forwarded to the OFA, and the OFA will issue the resulting report to the owner.
The fee for each test includes the test kit, laboratory processing, and subsequent registration in the OFA databases.