What is Primary Lens Luxation?
The lens of the eye normally lies immediately behind the iris and the pupil, and is suspended in place by a series of fibers, called zonular ligaments. It functions to focus light rays on the retina, in the back of the eye. When partial or complete breakdown of the zonular ligaments occurs, the lens may become partially dislocated (Lens Subluxation) or fully dislocated (Lens Luxation) from the lens' normal position.
Primary Lens Luxation is a heritable disease in many breeds, including many terrier breeds (Jack Russell, Bedlington, Fox, Manchester, Miniature Bull, Scottish, Sealyham, Welsh, West Highland White), Tibetan Terrier, Border Collie, Brittany Spaniel, German Shepherd and Welsh Corgi. In these breeds, spontaneous luxation of the lens occurs in early adulthood (most commonly 3-6 years of age) and often affects both eyes, although not necessarily at the same time. Primary Lens Luxation is caused by an inherent weakness in the zonular ligaments which suspends the lens.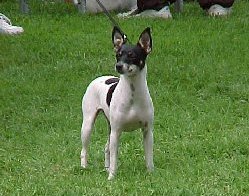 Lens Luxation can also occur secondary to other primary problems of the eye, including inflammation, cataracts, glaucoma, cancer, and trauma.
What is the Significance of Lens Luxation?
Lens Luxation can lead to inflammation (Uveitis) and Glaucoma (increased intraocular pressure). This can result in painful, teary, red eyes that may look hazy or cloudy. Both Uveitis and Glaucoma are painful and potentially blinding diseases if not identified and treated early.
How is Lens Luxation treated?
In all cases, a thorough eye exam by your veterinarian or a veterinary ophthalmologist is required, with careful evaluation for uveitis and glaucoma. If detected early, surgical removal of the lens can be beneficial. Medical treatment of inflammation and glaucoma in the form of topical and oral medications can relieve much of the discomfort associated with this disease.
Information supplied by the University of Missouri-Columbia College of Veterinary Medicine, used by permission.
Breeds
American Eskimo Dog
American Hairless Terrier
Australian Cattle Dog
Chinese Crested
Chinese Foo Dog
Jack Russell Terrier
Jagdterrier
Lakeland Terrier
Lancashire Heeler
Lucas Terrier
Miniature Bull Terrier
Norfolk Terrier
Norwich Terrier
Parson Russell Terrier
Rat Terrier
Russell Terrier
Sealyham Terrier
Tenterfield Terrier
Tibetan Terrier
Toy Fox Terrier
Volpino Italiano
Welsh Terrier
Yorkshire Terrier
Hybrid/mix-breed
Research Available:
Test Results
Normal This dog has tested normal/clear for the mutation known to cause Primary Lens Luxation (PLL) in this breed. It can only transmit the normal/clear gene to its offspring.
Carrier/Low Risk This dog has tested as a carrier/low risk for the mutation known to cause Primary Lens Luxation (PLL) in this breed. This means the dog has one normal/clear copy and one mutated copy of the gene, and has a slight (5-10%) risk of developing Primary Lens Luxation. Either the normal/clear copy or the mutated copy of the gene can be transmitted to its offspring.
Affected/High Risk This dog has tested as affected/high-risk for the mutation known to cause Primary Lens Luxation (PLL) in this breed. It is at risk for developing clinical symptoms of PLL at some point in its lifetime, usually between 4-8 years of age. It can only transmit the mutated copy of the gene to its offspring.
Order DNA Test
Tests are ordered online through the secure area of the OFA website. Payment is accepted by credit card (MasterCard and VISA). The OFA administers all order handling. Upon receipt of an order, the OFA will send out the test kit which will include a Foam-Tipped Applicator card for DNA sample collection, along with sample collection instructions. Using the FTA card technology, owners can safely collect DNA samples at home. The collection process is non-invasive, and no veterinary appointment is necessary.
Samples are then sent to the University of Missouri College of Veterinary Medicine where the samples will be processed by the Small Animal Molecular Genetics Lab. Results will be forwarded to the OFA, and the OFA will issue the resulting report to the owner.
The fee for each test includes the test kit, laboratory processing, and subsequent registration in the OFA databases.